USRA Awards Banquet set for Feb. 22
January 22, 2019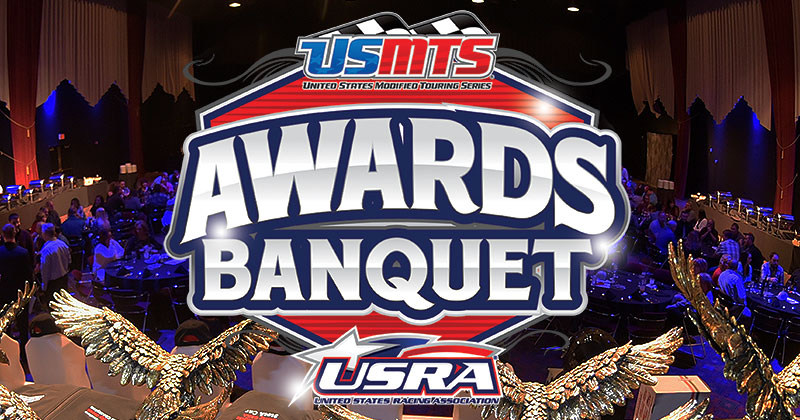 The United States Racing Association will host its annual awards banquet for drivers competing in this year's Summit USRA Weekly Racing Series one month from today on Friday, February 22, at the Ameristar Casino Hotel in Kansas City.
Individual tickets are $40 each and are on sale now by calling the USRA offices at (515) 832-6000. The deadline to order tickets is Wednesday, February 13, but will likely sell out before that date. Only 240 tickets will be sold.
Headlining the honorees will be Summit USRA Weekly Racing Series national champions Darron Fuqua (USRA Modifieds), Mitch Hovden (Holley USRA Stock Cars), Lance Hofer (USRA Late Models), Kris Jackson (Out-Pace USRA B-Mods), Dustin Gulbrandson Cook Racing Supplies USRA Hobby Stocks) and Ryan Bryant (USRA Tuners).
Iron Man Challenge champions Dillon Anderson (Holley USRA Stock Cars) and Dan Hovden (Out-Pace USRA B-Mods) will also be honored along with regional champions, track operators, marketing partners and more.
This year's celebration will once again be a joint effort for both the USRA and United States Modified Touring Series (USMTS). Fans and members of the media are invited to attend too.
Doors open and social hour begins at 6 p.m. Dinner will be served at 7 and the awards ceremony begins around 8 p.m. (no jeans or hats please). In addition to the awards ceremony, the evening's meal will feature a luxurious and plentiful selection of fine food, plus a huge dessert bar. A cash bar will also be available.
The Ameristar Casino Hotel is an entertainment hub that offers something for everyone with huge casino floors, nine restaurants ranging from casual to fine dining, a luxury hotel, 18 movie screens, supervised child care and more.
Located just east of downtown Kansas City, the property features the largest casino and the most games in the Kansas City area, as well as one of the largest poker rooms in the Midwest. The property includes a 140,000 square-foot casino, seven dining venues, live entertainment in several venues featuring local and regional acts, an 18-screen movie theater and more.
The AAA-rated three-diamond full-service 184-room hotel includes 36 mini and 12 king suites. All rooms feature luxury furnishings, plasma-screen televisions, one king-sized or two queen-sized beds, mini refrigerators and in-room safes. Each king suite contains a bar, an in-room dining area and custom artwork. Non-smoking and wheelchair accessible rooms are available.
The awards banquet will be held inside the Star Pavilion. With more than 12,000 square feet of function space, the Star Pavilion serves a multitude of events. Situated on 183-acres immediately east of the Interstate 435 Missouri River bridge (at 210 Highway), Ameristar Casino Hotel is only seven miles east of downtown Kansas City. For more information, check out www.ameristar.com.
To learn more about the USRA, visit www.usraracing.com or call (515) 832-6000. You can also like us on Facebook at www.facebook.com/usraracing, follow us on Twitter at www.twitter.com/usraracing and check out our YouTube channel at www.youtube.com/usratv. Keep up to speed with everything USRA by joining our email list at www.usraracing.com/subscribe.