Fifth USMTS title in sight for Sanders
October 9, 2023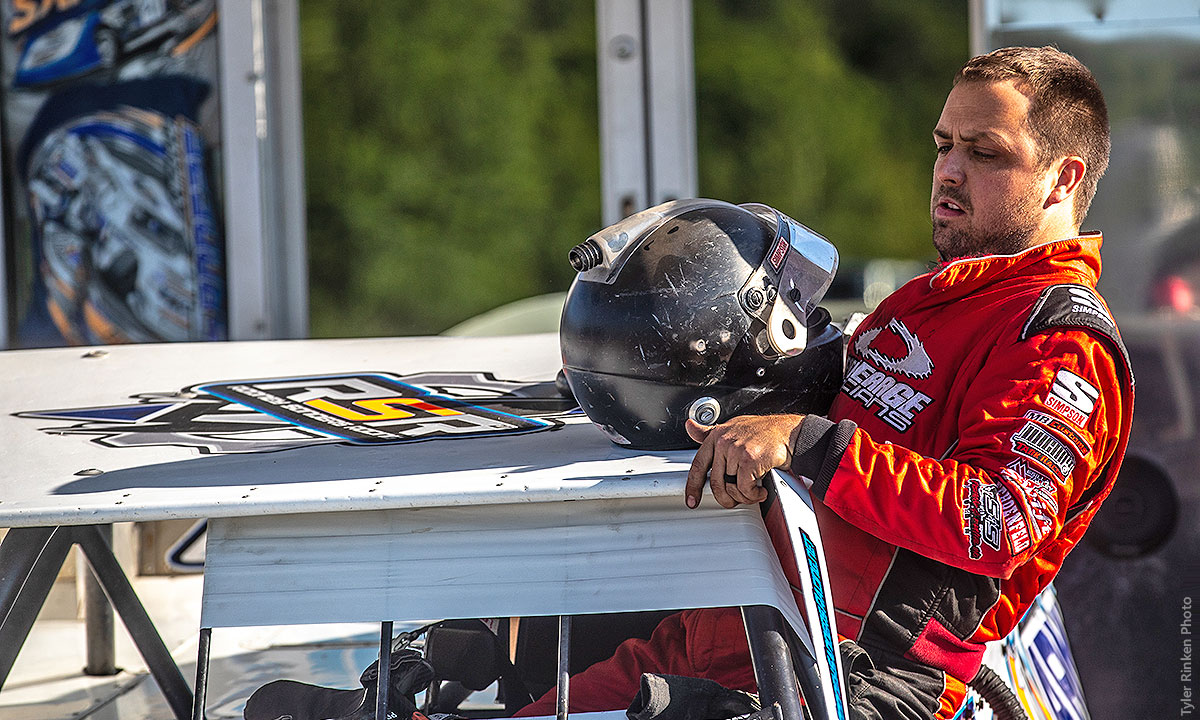 The biggest and highest-paying dirt modified show in Oklahoma history will take place at the all-new state-of-the-art Arrowhead Speedway on Thursday, Friday and Saturday, October 12-14, with the inaugural running of the ARMI Contractors All-American.
Summit USMTS Modifieds will compete for record-setting payouts of more than $100,000 over the three nights, and Rodney Sanders has his eyes on an even bigger prize: The 2023 USMTS national championship and the $100,000 that comes with it.
This week's visit to the Arrowhead Speedway will consume three of the last five USMTS races of the year. Sanders, of Happy, Texas, is aiming to clinch his fifth Summit USMTS National Championship crown while another four-time champ and local favorite, Jason Hughes, is hoping to close the gap and stay within striking distance.
In addition to Hughes, four other drivers are mathematically still in reach of the points lead but their title hopes are far-reaching. Since Sanders will have a provisional available to him in each of the final five events, the worst he could do is score 50 points each night while the best any driver can do is score 103 points (100 to win plus 3 bonus points for leading the most laps).
Tanner Mullens is currently sixth in the standings with 2231 points—240 behind Sanders. The most Mullens could make up in the next five races is 265 points if he wins them all and Sanders finishes outside the top 20 every night. Let's just say it would require a miracle.
Even if Hughes wins all three nights this weekend at Arrowhead, three top-10 finishes would find Sanders heading into the final two nights of racing Halloween Weekend with a 71-point cushion.
It's safe to say that "The Rocket" is on his way to a $100,000 payday, possessing the Leon Ramirez Trophy and becoming just the second driver in the 25-year history of the series to capture at least five crowns.
No title is more sought after in dirt modified racing than the Summit USMTS National Championship presented by RacinDirt. In fact, entering the 25th season for the series in 2023, only nine drivers have done so.
Kelly Shryock was the first USMTS National Champion and scored his first of eight straight titles in 1999. He bounced back to notch his ninth title in 2009 after Minnesota racers Jason Krohn and Tim Donlinger claimed the 2007 and 2008 crowns.
In 2010, Hughes earned his first USMTS National Championship. Three more followed in 2015, 2016 and 2017 for the legendary chassis builder whose shop is practically across the street from the Arrowhead Speedway.
Ryan Gustin recorded back-to-back national championships in 2011 and 2012 while Sanders did the same at the conclusion of the 2013 and 2014 campaigns. Sanders also took the titles in 2019 and 2020.
Johnny Scott had a dominating 2018 season to claim his first and only USMTS national championship—one that was worth a record $50,000 at the time.
After a pair of runner-up finishes behind Sanders in the 2019 and 2020 campaigns, Dereck Ramirez finally sealed the deal in 2021 and pocketed a record $70,000 for his team's efforts.
Last year, Dustin Sorensen became the first driver to win "The Leon" and $100,000 for his first USMTS title.
​​
Summit USMTS National Championship
Points standings as of 10/9/2023
1. 20 Rodney Sanders, Happy, Texas ... 2471 (4 wins)
2. 12 Jason Hughes, Watts, Okla. ... 2307
3. 24C Jim Chisholm, Osage, Iowa ... 2279 (2 wins)
4. 4R Dereck Ramirez, Woodward, Okla. ... 2256 (1 win)
5. 0 Jake O'Neil, Tucson, Ariz. ... 2239 (2 wins)
6. 02 Tanner Mullens, Wichita, Kan. ... 2231 (2 wins)
7. 60 Dan Ebert, Lake Shore, Minn. ... 2173 (2 wins)
8. 75 Terry Phillips, Springfield, Mo. ... 2117 (2 wins)
9. 4W Tyler Wolff, Fayetteville, Ark. ... 2104 (2 wins)
10. 33Z Zack VanderBeek, New Sharon, Iowa ... 2086 (1 win)
11. 10C Cayden Carter, Oskaloosa, Iowa ... 2084 (2 wins)
12. K9 Will Krup, Mt. Carmel, Ill. ... 2000
13. 87 Darron Fuqua, Mayetta, Kan. ... 1953
14. 65X Carlos Ahumada Jr., El Paso, Texas ... 1901 (1 win)
16. 4 Jeremy Nelson, Alexandria, Minn. ... 1850
17. 38T Dylan Thornton, Orcutt, Calif. ... 1723
18. 21K Kyle Brown, Madrid, Iowa ... 1650
22. 99L Steve Lavasseur, River Falls, Wis. ... 1548
Other winners:
49 Jake Timm, Winona, Minn. (4)
65 Tyler Davis, Haysville, Kan. (1)
50III Brandon Davis, Hayfield, Minn. (1)
19 Dustin Sorensen, Rochester, Minn. (1)
97 Cade Dillard, Robeline, La. (1)
Thursday's feature will pay $3,000 to win and the winner of Friday's main event will pocket $5,000, Saturday night's finale pays $20,023 to win and up to $1,200 to start.
Racers can save money by registering online early at usmts.com/entry.
The nation's best of the best in dirt modified racing will meet a host of local and regional drivers to create a talent-laden field that is sure to entertain fans in attendance and watching online at RacinDirt.com.
Ramirez, Mullens, Jim Chisholm, Jake O'Neil, Dan Ebert, Terry Phillips, Tyler Wolff, Zack VanderBeek and many more are expected for the inaugural ARMI Contractors All-America, including Cayden Carter, Will Krup, Darron Fuqua, Carlos Ahumada Jr., Jeremy Nelson, Dylan Thornton, Kyle Brown, Steve Lavasseur and then some.
Among the local talent, there's plenty. Track champion and second-generation racer Trevor Hughes tops the list of protectors of the realm, along with Tate Cole, Mike Hines, Josiah Robinson, John Yeoman, Jarret Dotson, Jay Rierson, Jared Russell, Steve Holzkamper, Mike Hansen, Jake Davis, Chad Wheeler, Gary Christian, Kale Westover, David Tanner, "Big Daddy" Joe Duvall and more.
An open practice will be held Wednesday from 6-9 p.m., and is the only guaranteed night for hot laps. Pit passes are $25 for anybody age 6 and older. Limited concessions will be available in the pit area. The grandstands will be closed.
Medieval USRA Stock Cars and AmeriFlex USRA B-Mods join the Summit USMTS Modifieds all three nights while the USRA Tuners join the show on Saturday.
On Thursday and Friday, the pits open at 4 p.m. and grandstands open at 5. USMTS qualifying starts at 6:45 with the first green flag of the night scheduled to wave at 7.
General admission tickets for each day are $25. Seniors (62+) and juniors (13-17) get in for $20, and kids ages 6-12 are just $5. Pit passes are $40.
On Saturday, the pits open at 3 p.m. and grandstands open at 4. USMTS qualifying starts at 5:45 with the first heat race getting underway at 6 p.m.
Active military and veterans get free grandstand admission on Saturday, courtesy of ARMI Contractors. Otherwise, general admission tickets are $30 while seniors (62+) and juniors (13-17) get in for $25 and kids ages 6-12 are just $5. Pit passes are $45.
Children ages 5 and under get into the grandstands and/or pits for FREE all week when accompanied by a paid adult.
Grandstand tickets for each race night are available online at MyRacePass up until race day.
If you can't be there in person because of an earthquake, civil war, act of God or some other unforseen event, sit back in your recliver at home and watch every lap live on RacinDirt.
Check out the FAST FACTS for everything you need know about the inaugural ARMI Contractors All-American.
Visit Arrowhead Speedway online at ArrowheadSpeedway.com and follow them on Facebook, Instagram and Twitter.
The Arrowhead Speedway is a 1/3-mile semi-banked clay oval located 5.5 miles west of Arkansas/Oklahoma State Line at 20316 US-412 W, Colcord, OK 74338.
For its Silver Anniversary season, the Summit USMTS National Championship presented by RacinDirt currently features racing at some of America's premier dirt track racing venues. The winners of those events are set to earn more than $300,000 with nearly $2 million in purses and prize money earmarked for the 2023 campaign.
Visit usmts.com for schedules, points, photos, souvenirs, videos and more. Follow our social media channels on Facebook, Instagram, Twitter and YouTube. Click here to get USMTS news delivered to your inbox.
USMTS OFFICIAL SPONSORS: American Racer Racing Tires, Beyea Headers, Callies Performance Products, Chevrolet Performance, Fast Shafts, FK Rod Ends, KSE Racing Products, Malvern Bank, Mesilla Valley Transportation, Nitroquest Media, PEM Racing Gears & Drivetrain, RacinDirt, Summit Racing Equipment, Super Clean, VP Racing, Wieland.
USMTS PARTICIPATING SPONSORS: ARMI Contractors, Boomtest Well Service, Boubin Tire & Automotive, Brodix Cylinder Heads, Collins Brothers Towing, D&T Marriott Enterprise, LLC, DAY Motorsports, Duvall Electric, Gunshepherd.com, Hacienda Mechanical, Kenny's Tile, Mel Hambelton Racing, Midwest Wrap Co., Miller Welders, PBM Performance Products, Rancho Milagro Racing, S&S Fishing & Rental, Salty's BBQ & Catering, Shocker Hitch, Shop Quik Stores, YouDirt.com.
USMTS CONTINGENCY SPONSORS: AERO Race Wheels, AFCO Racing Products, Allstar Performance, BigDeal Car Care, Bryke Racing, BSB Manufacturing, Champ Pans, Deatherage Opticians, Edelbrock, Hooker Harness, Hyperco, Integra Racing Shocks and Springs, JE Pistons, K1 RaceGear by Ryan Bowers Motorsports, Keyser Manufacturing, MD3, MSD Performance, Penske Racing Shocks, Performance Bodies & Parts, QA1, Quarter Master, RacerWebsite.com, Real Racing Wheels, Simpson Performance Products, Swift Springs, Sybesma Graphics, Wehrs Machine & Racing Products, Willy's Carb & Dyno Shop, Wilwood Racing.
USMTS RACETRACKS: 81 Speedway, Ark-La-Tex Speedway, Arrowhead Speedway, Cedar Lake Speedway, Deer Creek Speedway, Fayette County Speedway, Hamilton County Speedway, Humboldt Speedway, Lakeside Speedway, Lucas Oil Speedway, Mason City Motor Speedway, Ogilvie Raceway, Rocket Raceway Park.