MONSTER TRUCK NITRO TOUR!
October 13, 2023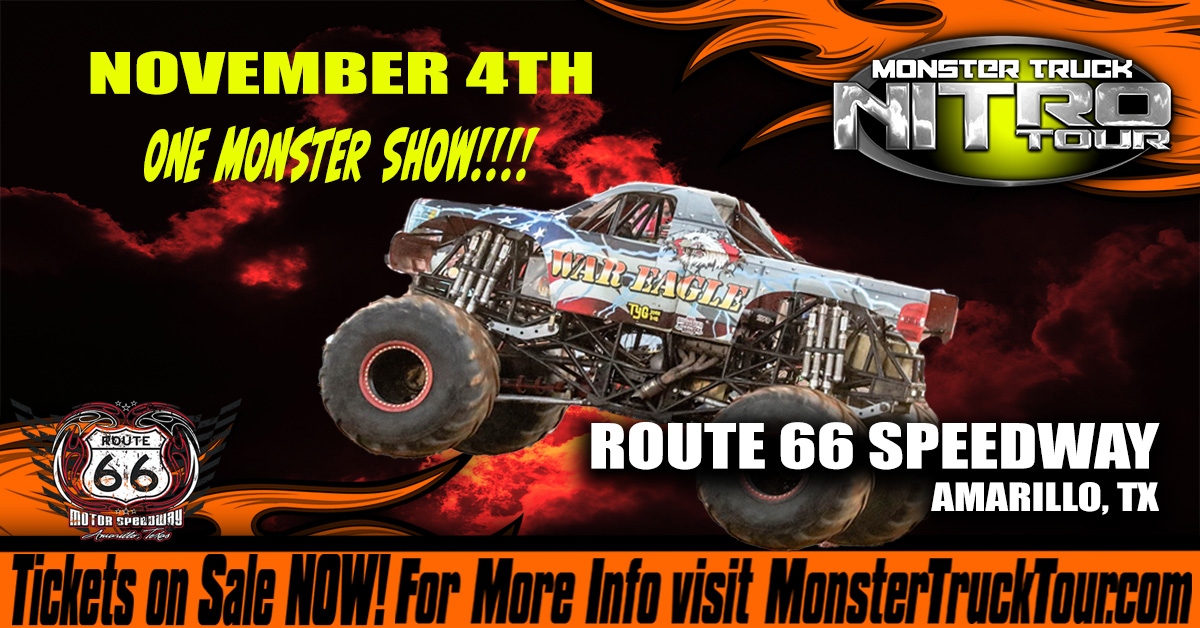 MONSTER TRUCK NITRO TOUR!
FIRST TIME EVER! BIGGER AND BETTER!
FEEL THE X-TREME!
Amarillo will be motorsport entertainment's epicenter with the nation's most competitive Monster Trucks as the Monster Truck Nitro Tour invades the Route 66 Motor Speedway on November 4 for one monster show! See these incredible 10,000-pound, car crushing giants compete in racing, wheelie contests, and then rock the house with amazing freestyle action during the Monster Truck Nitro Tour! Plus, you can meet the drivers and see the trucks up close at the pre-event Autograph Pit Party!
Feel the Monster Truck Thunder!
BAD DECISION… They will ALL be chasing this MONSTER!
WAR EAGLE… This MONSTER he's GOING for the WIN!
THRILLBILLY…HE will give you the THRILL of your life!
MISFIT… This is one WILD MONSTER!
PIT PARTY & DRIVER AUTOGRAPH SESSION…Come early, meet the drivers, get autographs, and take photos with the drivers and their Monsters. Pit Party Pass must be accompanied by an event ticket.
RIDE TRUCK…That's right! Get the ride of your life on-board a real Monster Truck during the Pit Party and Intermission!
Saturday, November 4th, 2023……….1:30 pm (Pit Party 12:00pm–1:00pm)
ROUTE 66 SPEEDWAY
4101 TX-335 Loop
Amarillo, TX 79118
(806) 335-3478
route66motorspeedway.net
Advance discount tickets are available online at www.MonsterTruckTour.com
OR Get them at the Gate:
Tickets are subject to a service charge.
Children under 2 are free
TICKET PRICES GO UP DAY OF SHOW
SHOW IS RAIN OR SHINE
***SATURDAY MATINEE SHOW… KIDS GET A FREE TOUR GIFT WHILE SUPPLIES LAST!!!***
The latest information may be found at www.MonsterTruckTour.com ,or by calling (888) 760-3222.